Essay About My Hero Nelson Mandela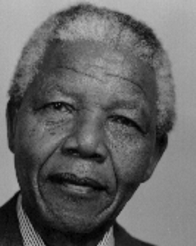 Photos courtesy of The Mandela Page
Imagine growing up in a country where drinking out of the wrong water fountain might get you thrown into jail; where a man might have the very same job as his neighbor, but because of the color of his skin, get paid less in a year than the other man made in a week; where the government told you that your ancestors and their ways of living were wrong and savage and not even human.
Sounds like some futuristic film, doesn't it? Well, for Nelson Mandela, this was no movie.
Growing up in South Africa under the Apartheid system of government meant these things, and worse, were part of daily life.
But Nelson Mandela was a fighter. Instead of bowing down to this unjust system of government, he became a lifelong warrior in the battle to free South Africa.
Starting out as a leader of an underground political movement called the African National Congress (ANC), Mr. Mandela played a part in many dramatic demonstrations against the white-ruled government.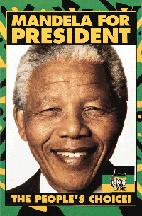 His career in the ANC was cut short in 1964 when he was sentenced to life in prison. The notorious Rivonia Trial, as his sentencing was called, is now seen as nothing more than a cruel ploy used by the white South African government to silence Nelson Mandela once and for all. But even while in prison, Mandela continued to be a beacon of hope for his people who carried on the struggle against Apartheid in his absence. In 1990, after 27 years of imprisonment, Mandela was freed. His release marked the beginning of the end for apartheid. In less than five years after his release, Mandela was awarded the Nobel Peace Prize and elected president of South Africa.
Today, thanks to the self-sacrifice of Nelson Mandela, apartheid has been outlawed. Everyone in South Africa now has an equal opportunity at home and at work to live comfortable, productive lives. Nelson Mandela is one of the world's true freedom fighters, and his life and personal triumphs will be remembered long after the world has forgotten the evils of Apartheid.

Photos courtesy of The Mandela Page
Nelson Mandela's book, Long Walk to Freedom tells the extraordinary story of his life, an epic of struggle, setback, renewed hope, and ultimate triumph.
"I have walked that long road to freedom. I have tried not to falter; I have made missteps along the way. But I have discovered the secret that after climbing a great hill, one only finds that there are many more hills to climb. I have taken a moment here to rest, to steal a view of the glorious vista that surrounds me, to look back on the distance I have come. But I can rest only for a moment, for with freedom comes responsibilities, and I dare not linger, for my long walk is not yet ended."
Page created on 2/28/2015 7:13:40 PM
Last edited 1/6/2017 4:06:08 PM

Related Links
Extra Info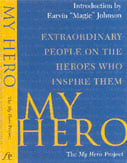 Nelson Mandela is a hero to many people, for all different reasons. Several of the contributors to My Hero: Extraordinary People on the Heroes Who Inspire Them selected Mandela as their hero.

Read their essays on myhero.com for a limited time by clicking on the links below:
For Muhammad Ali, Nelson Mandela is a hero because because he understands what it means to fight against enormous odds.Read More.


For children's troubadour Raffi, Nelson Mandela is a hero because he remained unbeaten and unbowed, despite tremendous outward oppression. Read More.


For Paul Rusesabagina, Nelson Mandela is a hero because he showed that words are much more powerful than weapons.Read More
We heard it from Mandela, turn this world around
For the children--turn this world around
He's done it once before, and now we hear his call
For the children--turn this world around

The dreams of our young ones born into this world
Need respect and love to come alive
Honoring the children is what we're here to do
Now is the hour and we've got the power to

Turn, turn, turn, turn this world around
For the children--turn this world around

--from Raffi's song "Turn This World Around"
(A Song for Nelson Mandela)
At the launch of the Say Yes to Children campaign in 2000, my hero Nelson Mandela said it was not enough for world leaders to continue to spout rhetoric. What we need, he said, is to "turn this world around--for the children!" This inspired me to write a song I hoped would become a rallying cry to help create a child-honoring world�a world that truly honors its young.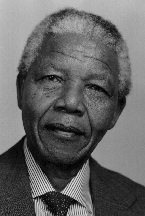 Nelson Mandela ( Photos courtesy of The Mandela Page)
What inspires me most about Mandela is the way this tenacious freedom fighter spent twenty-six years in captivity without becoming bitter or demeaning his jailers; refused two offers to be set free on the principle that only free persons can enter into a contract; triumphed over the temptation for revenge; mastered his own lion-heart, and with it confounded his captors such that they felt captive--to their stark injustice. Like the Berlin Wall and the Iron Curtain, apartheid, that once impregnable and violent partitioning of people by the color of their skin, disintegrated over time and crumbled, outdone by an unbeatable color-blind foe.
Despite tremendous outward oppression Mandela remained unbeaten and unbowed. That achievement is so striking because he had to resist not only the assaults of his captors but the temptation to surrender to anger, bitterness, and hatred.
His is also a story of the indomitable spirit of South Africans who prevailed at long last over insurmountable odds, by sheer determination, by faith in the vision of a unified homeland, by the grace of music and celebration they kept alive in the darkest of their times. South Africa's triumph is testimony to the power of mind and heart over despair. A boxer turned champion peacemaker inspired a nation of believers and won the support of a world of sympathizers.
Human history is rarely as compelling as when we can see how the actions of one person can move so many and change so much. Nelson Mandela was awarded the Nobel Peace Prize in 1992 and has received more than 50 honorary degrees from universities all over the world. Yet, even in triumph, Mandela has maintained a humble demeanor that marks this uncommon man with the common touch, father of a nation, hero in a turbulent age.
Mandela is that rarity among public figures, the one who stays true to his origins, true to his calling--in his case, to a lifelong pursuit of social justice. Even in elderhood Mandela has not retired from public life. He works tirelessly to address the state of the world�s children, to "turn this world around."
Page created on 8/11/2014 6:52:37 PM
Last edited 1/6/2017 5:30:39 PM

Related Links
Extra Info
Copyright 2005 by The My Hero Project

MY HERO thanks Bill Bradley for contributing this essay to My Hero: Extraordinary People on the Heroes Who Inspire Them.

Thanks to Free Press for reprint rights of the above material.
READ MORE!

Read more about Nelson Mandela on the Nobel Prize website. CLICK HERE

Read what other My Hero Guest have to say about Nelson Mandela in their own "My Hero" stories.

Abdullahi Jalloh, from Sierra Leone, calls Nelson Mandela a "Freedom Hero." Read his story


Jeff Trussell writes that "...Nelson Mandela was a fighter. Instead of bowing down...he became a lifelong warrior in the battle to free South Africa." Read his story




My Hero: Extraordinary People
on the Heroes Who Inspire Them